WELCOME… THE CARNIVAL COLLECTION! 🎠🍧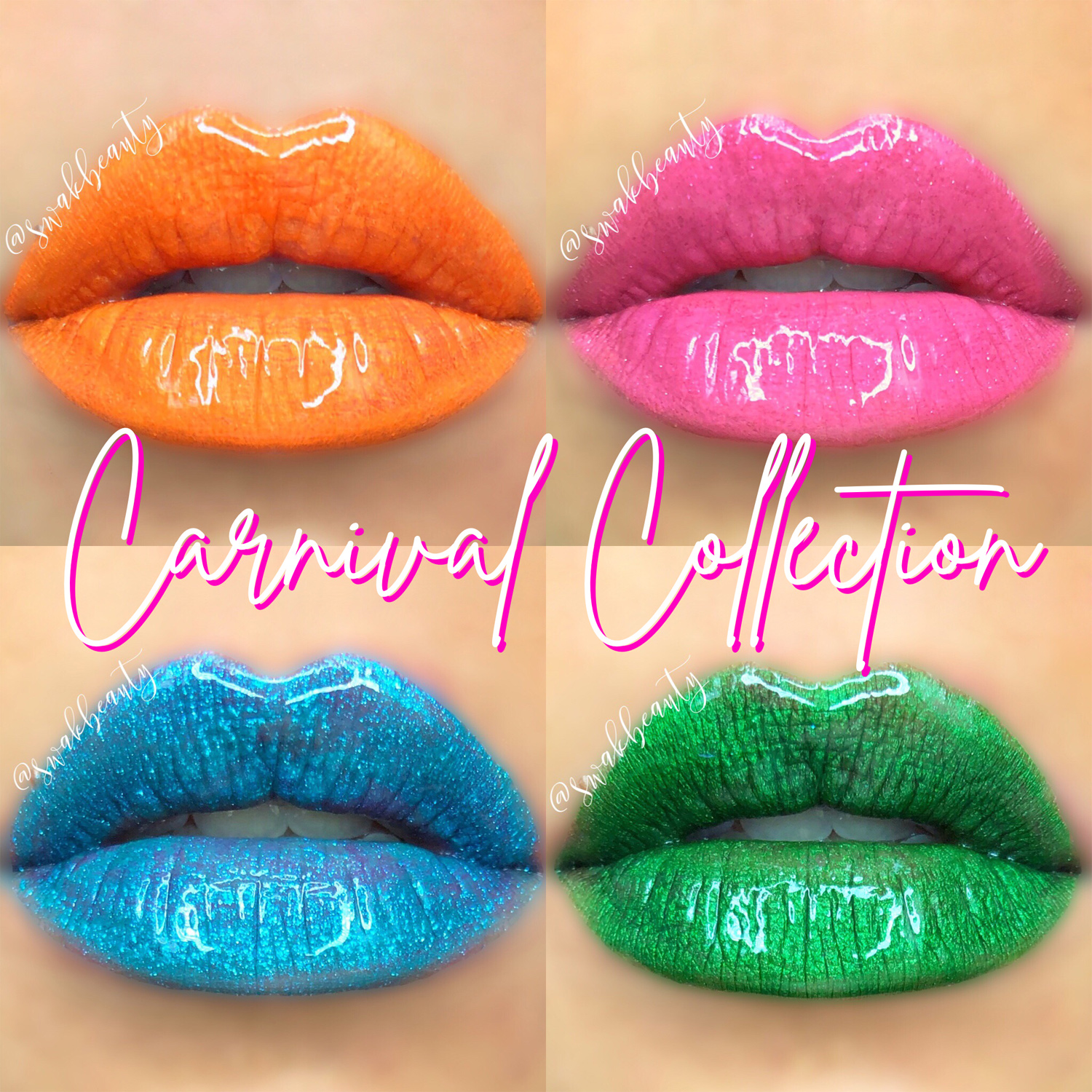 THIS. COLLECTION. YOU GUYS.
Can I just say – it has completely taken me by surprise?! I am LOVING each and every one of these colors WAAAAAYYYYYYY more than I anticipated I would!
My mind is actually twirling with ideas and possibilities. The holidays. The sporting events. The pure, on-trend, FASH-UN. 💃🏼
Here's my initial swatch and tube pictures! How gorgeous are these tubes (especially with our amazing new branding)?!
WOW. WOW IS ALL I CAN SAY. 😱 This collection is PURE PERFECTION!! 🤩 I'm SO glad I snagged these colors up, because I will be using them ALL year round. 🙌
🍊 ORANGE SODA – This is absolutely a "sheer" color, needing 4 layers for full coverage. I LOVE how bold this TRUE orange is (no coral orange, here!) – it's stunning!! This color is crazy on-trend for this season! Pair it with a minimalistic look for a surprise pop of color. I also can't wait to break this one out for Halloween!
💖 BUBBLEGUM GLITTER – Ohhh, is this pink delicious! It reminds me 100% of "Barbie pink" – you know, the color on the box and all of her accessories – this is IT. The pink glitter is very subtle and this color almost reads as a matte to me – but with a high shine. I'm absolutely in LOVE.
🍧 SNOW CONE – WHOAHKAYYYYY. To be honest, we have a lot of blues in our line, so when this one was announced, I wasn't sure how I'd feel about it. BUT LEMME TELL YOU LADIES – this IS the color OF this collection. IT IS GORGEOUS. It is FILLED with turquoise and blue glitter that shines with such a frenzy – it catches the eye like no other and is by far my favorite color in this collection. HANDS DOWN.
💚 CANDY APPLE GREEN – This color is green PERFECTION! It reminds me of a green take on Metallic Plum – the metallic finish is very similar! It's an absolutely stunning and surprisingly WEARABLE, vampy, green. I will absolutely break this one out to go out, and most especially on St. Patrick's Day and Christmas!!
What do you think?! Are you obsessed with these shades like I am?! Contact me, or text the word ORDER to 937-249-0863 to order! 😘