Welcome… The Royal Gems Collection!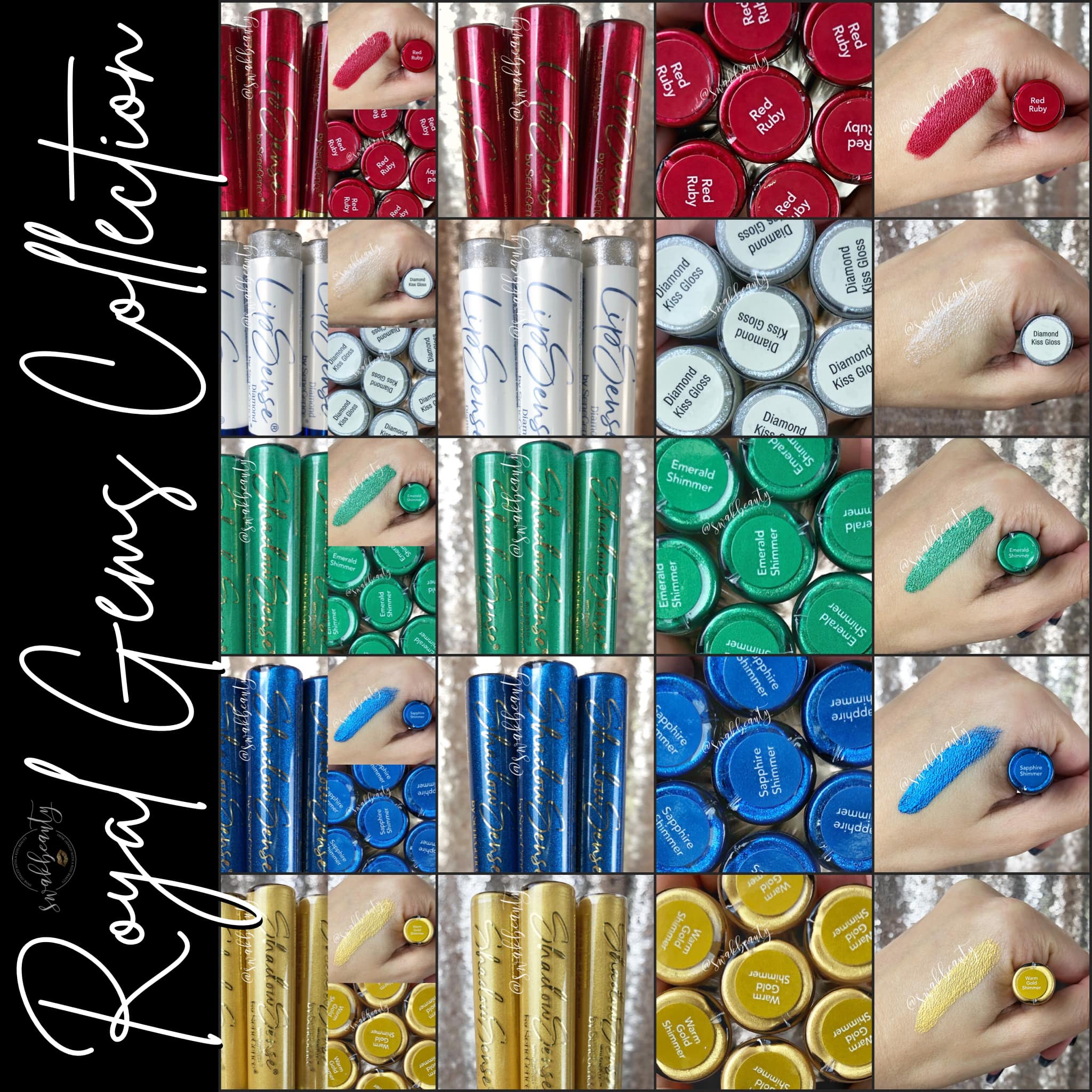 It's been another long day of packing orders, shooting and editing – and these gorgeous colors of the Royal Gems Collection have been SO much fun to play with! #workthatdoesntfeellikework
Everything you need for a gorgeous holiday look is right here!! 🙌
If you missed my first impression review of the Royal Gems Collection when it arrived into stock, check the video out below! (Keep scrolling for pics!)
❤️ RED RUBY LIPSENSE – OH MY STARS, you guys! This is my new favorite red – and I never thought I would be able to say that! It is smooth and VELVETY, with a gorgeous metallic finish. I am simply OB-SESSED with this red and I'm never looking back.
💚 EMERALD SHIMMER SHADOWSENSE – This rich green is so beautiful! It has a smooth finish and a TRUE emerald green tone and will be the compliment all of your favorite holiday looks!
💙 SAPPHIRE SHIMMER SHADOWSENSE – Oh my goodness, this one took me by surprise. We've had a few gorgeous blues released this year – but this one really stands out! It catches the light in the most beautiful way – I can't wait to wear this one as a bold eyeliner!
💛 WARM GOLD SHIMMER SHADOWSENSE – YES! Finally! A TRUE gold ShadowSense!! This color is just perfection and I will absolutely be hoarding extras because I can never run out of this staple hue.
💎 DIAMOND KISS GLOSS – This gorgeous gloss, filled with REAL crushed diamonds, has been on the top of my favorites list for a while now. It's the PERFECT icing on the cake of this stunning collection and really does AMAZING things over Red Ruby (stay tuned for pics coming your way soon!)
I still have a bit more work ahead of me – my lip pics, shadow eye pics, Red Ruby selfies and comparison swatches will be posted SOON!! 😘