MOTD – MERMAID TAIL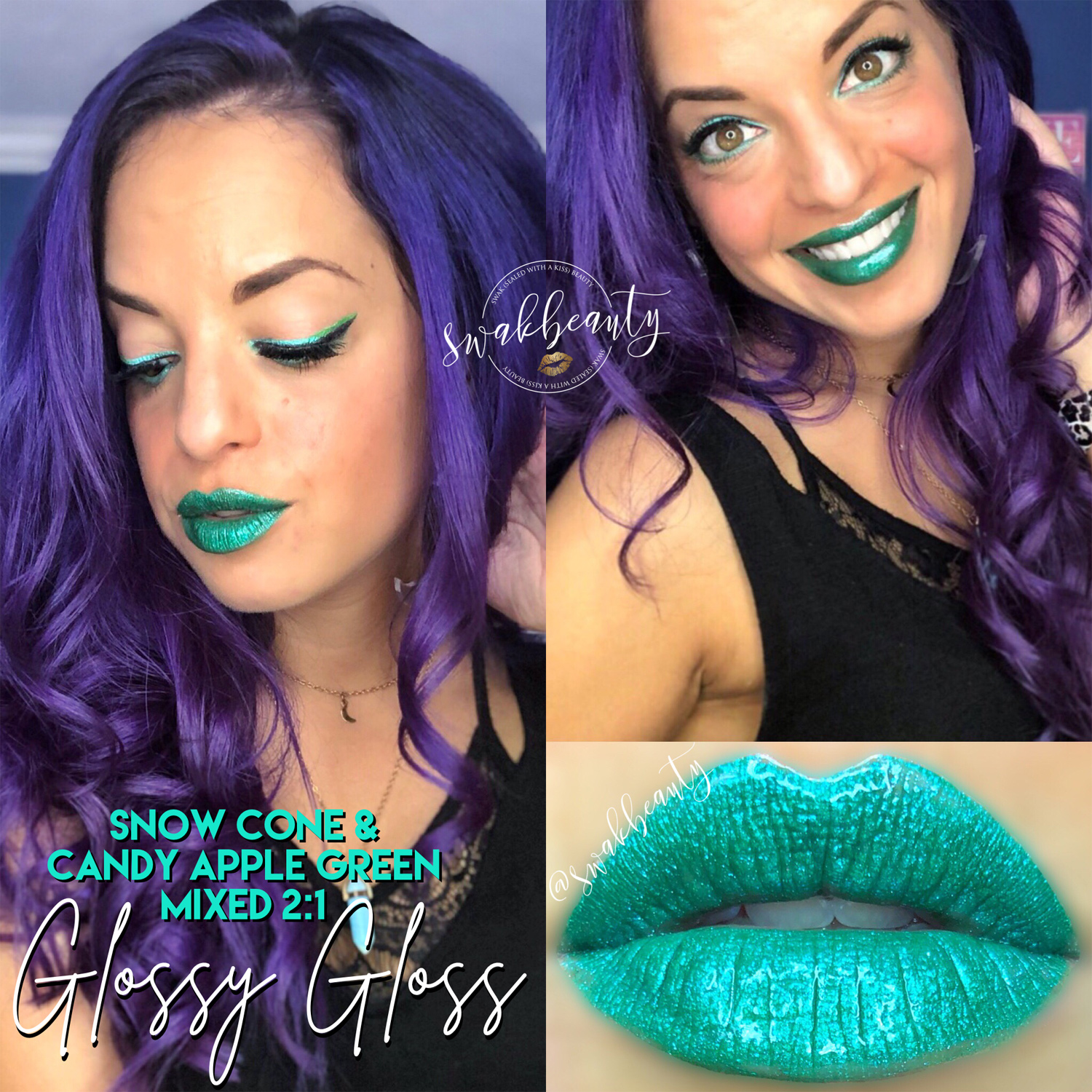 Two MOTD looks in a row?! It's already a great week – and it's only Wednesday 😘
This is basically a Part 2 to yesterday's Orange Bubblegum Soda look – using very much the same idea and techniques, but with the other two colors in the new Carnival Collection, Snow Cone and Candy Apple Green.
Okay – I knew these colors would make magic together – but I had no idea how PERFECT it would be. I mixed 2 parts Snow Cone to 1 part Candy Apple Green (an even mix would have leaned much more Candy Apple) to create this insanely beautiful teal blue/green – which, in my humble opinion – is the BEST mermaid lip I've seen yet. Calling ALL Ariels of the world – this mix is for YOU!
I'm absolutely loving this eye palette as well. In contrast to yesterday (where I applied the LipSense directly to the lid above my EyeSense liner), I used Snow ShadowSense as a base – and I really love how it made Snow Cone and Candy Apple Green POP as my upper liner. I just NEVER get tired of this technique. Double liner for life!!
Here's everything I used for this look!
💋 Silk Pore & Wrinkle Minimizer
💋 Medium CCTM, Tan MakeSense, Pearlizer & Medium Concealer, mixed, as foundation
💋 Deep CCTM as contour
💋 Bronze & Terra Cotta BlushSense
💋 White/Medium Concealers on Blemishes
💋 White/Medium Concealers under eyes
💋 Candlelight as eyeshadow base & under eyes
💋 Snow Cone & Candy Apple Green LipSense as upper eyeliner, with Snow ShadowSense as upper liner base
💋 Starry Sky EyeSense as lower eyeliner
💋 Seafoam Shimmer & Palm Glitter ShadowSense on waterline
💋 Rustic Brown ShadowSense on brows
💋 Black LashSense VolumeIntense Mascara (Regular & Waterproof formulas layered)
💋 Snow Cone & Candy Apple Green LipSense, mixed 2:1
💋 Glossy Gloss
💋 Ardell Demi Wispies Lashes
Top: @maurices
Earrings: @sugar_and_vice
Necklace: @shop.sgl
Watch Band: @amazon