MOTD – Golden Ice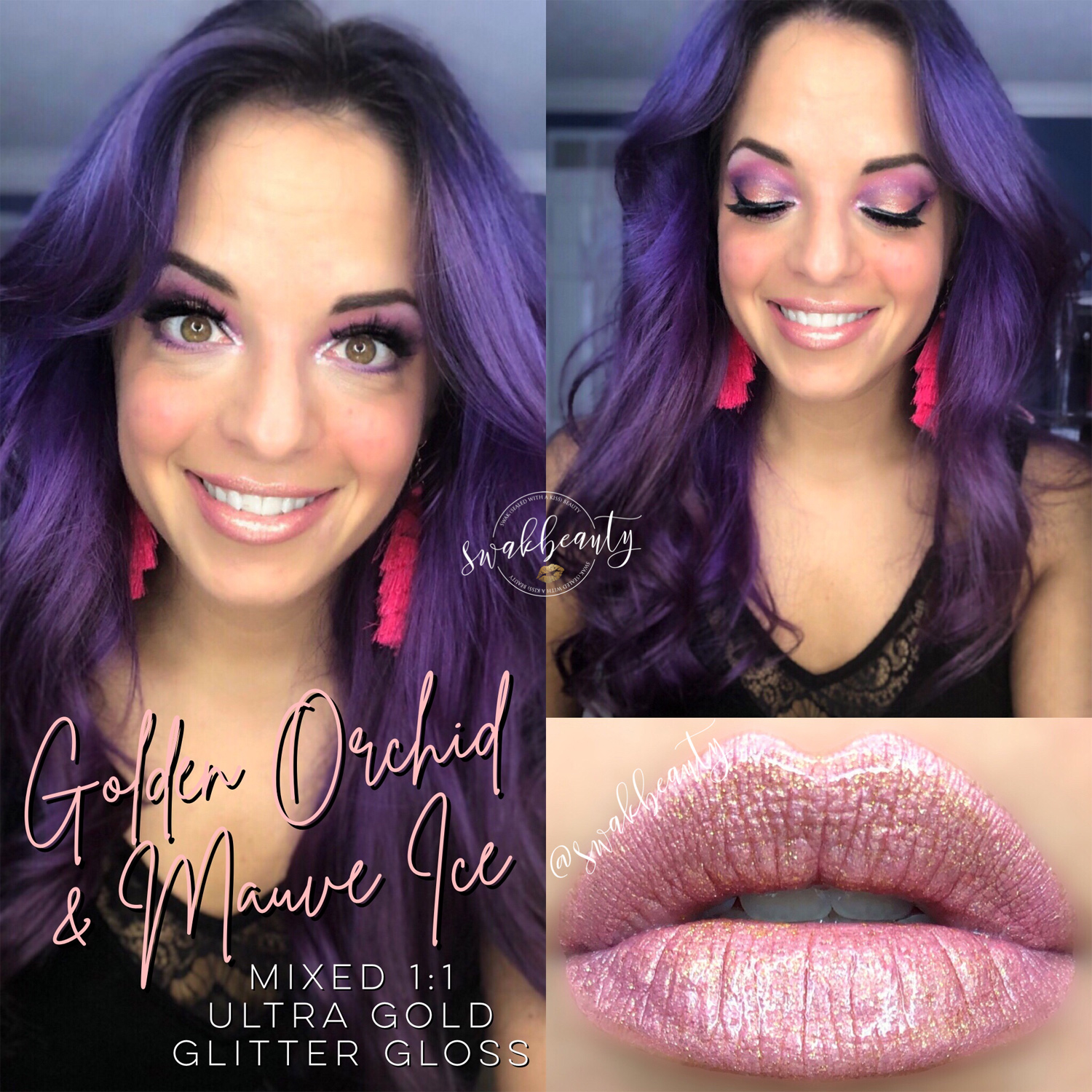 So… can I just wear this eye every single day for the rest of my life? Because I'm THAT obsessed.
This look uses a lot of ShadowSense colors, some mixed and some layered. I was tipped off as to how gorgeous Pink Berry BlushSense mixed with Platinum Glitter ShadowSense the other day by my amazing VIP Cindy V., and I knew I had to try it immediately! The combo is simply GORGEOUS. I paired it with my other favorite Pink Berry combination, with Denim ShadowSense, to create this gorgeous pink and purple contrast. Deep Plum was added and blended to create more dimension. I then used Rose Gold Glitter ShadowSense as the center to the halo look I created, and Whisper Pink in my inner corner and on my brow bone highlight. I just LOVE how these beautiful pinks and purples all look together!
I wanted a lighter pink to coordinate with this eye, and Golden Orchid mixed equally with Mauve Ice proved to be a perfect mix!! I topped with Ultra Gold Glitter Gloss (I seriously can't get enough of this one!) for extra added golden shimmer, and the finished result is just breathtaking.
As a side note, Golden Orchid is officially back in stock (for now!). My last inventory sold out SO fast, so if you need this color in your life, let me know ASAP! (I know I hoarded a few extras for myself, I never want to run out of this perfection!)
Here's everything I used for this look!
💋 Silk Pore & Wrinkle Minimizer
💋 Medium CCTM & Tan MakeSense, mixed
💋 Deep CCTM as contour
💋 Bronze & Terra Cotta BlushSense
💋 White/Medium Concealers on Blemishes
💋 White/Medium Concealers under eyes
💋 Candlelight as eyeshadow base & under eyes
💋 Pink Berry BlushSense & Platinum Glitter ShadowSense Mixed 1:1, Pink Berry BlushSense + Denim ShadowSense Mixed 1:1, Deep Plum, Rose Gold Glitter & Whisper Pink ShadowSense on eyes
💋 Starry Sky EyeSense as upper eyeliner
💋 Pink Berry BlushSense + Denim ShadowSense Mixed 1:1 on waterline
💋 Rustic Brown ShadowSense on brows
💋 Black LashSense VolumeIntense Mascara
💋 Golden Orchid & Mauve Ice LipSense, Mixed 1:1
💋 Ultra Gold Glitter Gloss
💋 Kiss Lash Couture Triple Push-Up Lashes in Corset
Hair Products Used:
👑 L'ange Rival Heat Shield (Currently 70% OFF!)
👑 L'ange Manage Marula Oil Hydrating Mist (Currently 70% OFF!)
👑 Blow Dryer & Curling Wand from the L'ange Bijou Set (Currently 50% OFF!)
Shop L'ange Products with my EXCLUSIVE Sale Link!