MOTD – Golden Sunset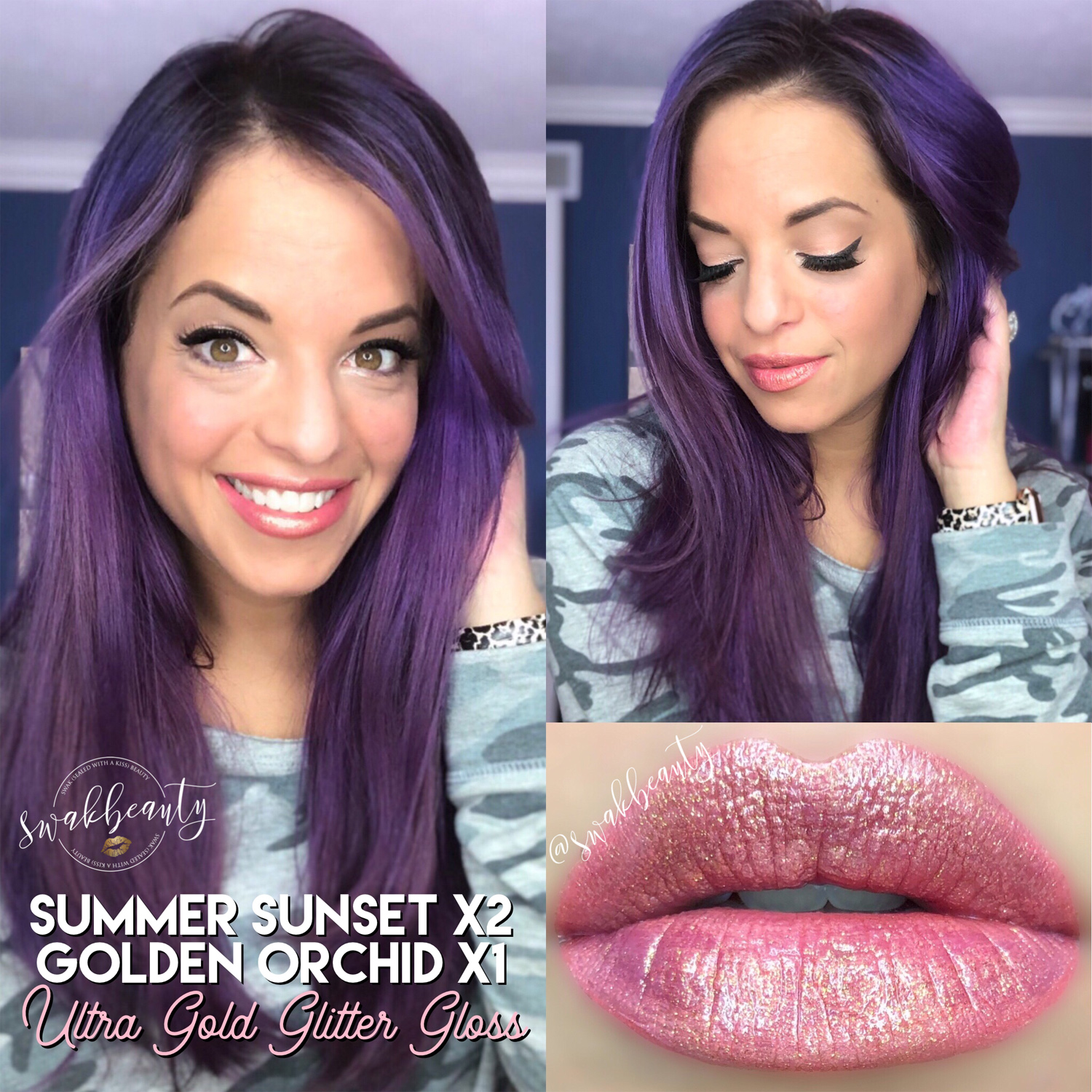 TGIF, amirite?!
Just a quick look I did today to do an online training and run some errands!
I typically like to mix my lip colors, but every now and then I find a layering combo that gives me LIFE – and today is one of those days! Two layers of Summer Sunset with a single layer of Golden Orchid (which is now FACTORY SOLD OUT – but I do have a VERY limited quantity left in stock, so if you want it, definitely let me know ASAP!) make pure MAGIC. I topped with Ultra Gold Glitter Gloss for an additional hint of golden goodness, and I'm just OB-SESSED with how it came out. Look at that golden shimmer!!!
This eye is very simple, and uses some of my favorite go-to ShadowSense colors blended out into a very wearable and natural look. I used Rose Gold Glitter as my main lid color, with pops of Glacier Glitter on my brow bone highlight and inner corner for an added touch of brightness. I used Moca Java as my crease/transition color and a touch of Deep Plum on my waterline – and voila! This eye look is complete!
Here's everything I used for this look!
💋 Silk Pore & Wrinkle Minimizer
💋 Medium CCTM & Tan MakeSense, mixed
💋 Deep CCTM as contour
💋 Bronze & Terra Cotta BlushSense
💋 White/Medium Concealers on Blemishes
💋 White/Medium Concealers under eyes
💋 Candlelight as eyeshadow base & under eyes
💋 Rose Gold Glitter, Glacier Glitter & Moca Java ShadowSense on eyelids
💋 Rustic Brown ShadowSense on brows
💋 Deep Plum ShadowSense on waterline
💋 Starry Sky EyeSense as winged eyeliner
💋 Black LashSense VolumeIntense Mascara
💋 Summer Sunset x2, Golden Orchid x1 LipSense
💋 Ultra Gold Glitter Gloss
💋 Ardell Studio Effects Demi Wispies Lashes