Christmas Cookie Recipes 2018 – Part 1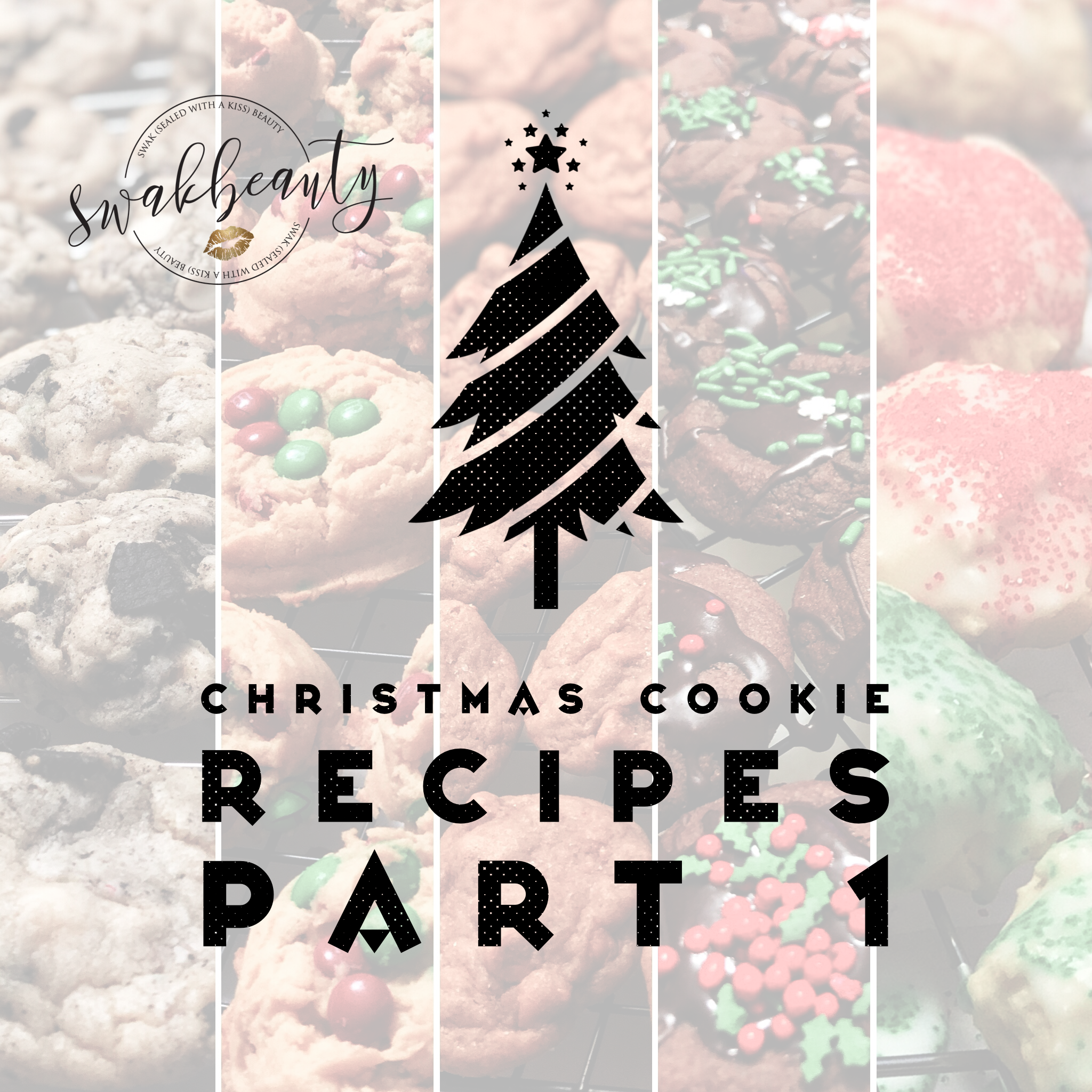 What?! An actual blog post?! Is this real life?!
I think it's been a lifetime (or two) since I've drafted a blog post! Between all the social media channels I'm a part of, the blog has been somewhat neglected – and I'm sorry for that!
I spent the last two days straight baking, which is pretty typical for me this time of year. One of my favorite traditions for the holidays is Christmas Cookie baking, and all of my closest (local) friends know that they will get a jam-packed cookie tin before the holiday comes. It's been quite some time that I've been doing this bake-a-thon in the December month – I tried to narrow it down last night while perusing old images, and I think I started in 2011. So this will be (I believe) my 7th year. Over the years, I've developed some what of a repertoire of favorites and go-to's, but every year I still hunt out new recipes and add them to the lineup to keep things interesting.
After sharing some of my cookies on my Instagram stories this weekend, I had a FLOOD of requests asking for recipes. Since IG still has not bestowed the grand "verified" designation on my account, and I cannot provide links in my stories, I thought making a blog post would be the best option to share my recipes, and modifications, with everyone.
There will be at least one more blog post coming this month, maybe two, as this is (most likely less than) half of what I will be baking before Christmas. Am I crazy? A little. Do I love it? You bet.
In this blog post, I'm detailing recipes on Cookies and Cream Cookies, French Vanilla M&M Pudding Cookies, Salted Butterscotch Pudding Cookies, Mini Chocolate Thumbprint Cookies and Italian Christmas Cookies. SO MUCH YUM, you guys!!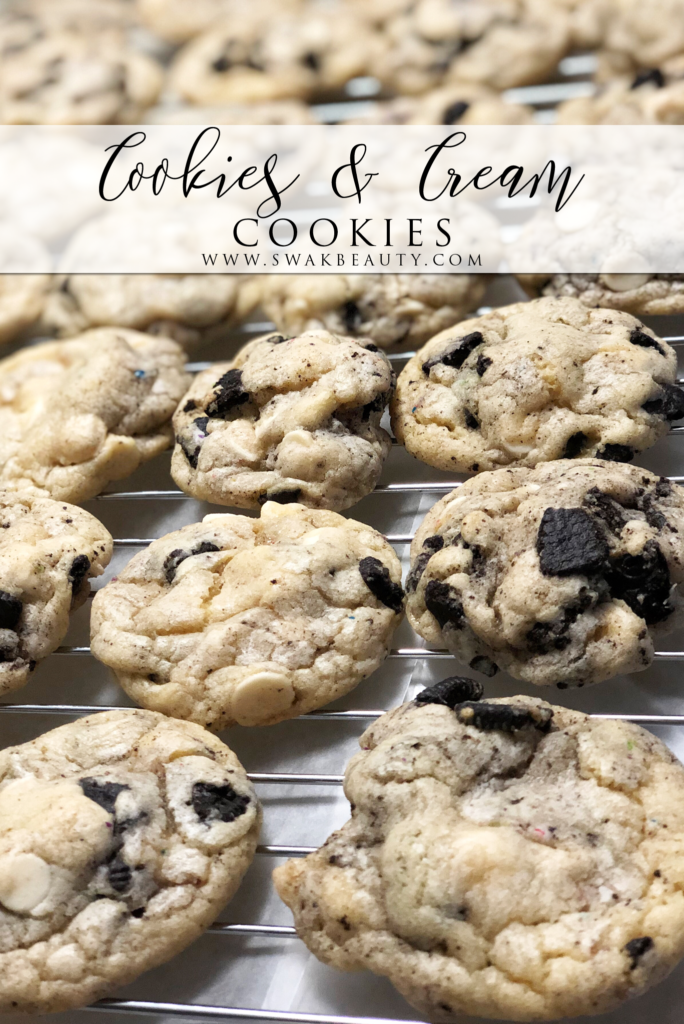 Cookies & Cream Cookies
Cookies & Cream is basically my favorite flavor of ANYTHING. Ice Cream, Coffee Creamer (yes, it exists and you should go find it), and of course, cookies. These cookies are SO GOOD, you guys. SO GOOD. We've already decided I need to make an extra batch (or two) because these will NOT last until Christmas. I used the Mickey Mouse 90th Birthday Birthday cake flavored Oreo's in this year's cookies, and it was the best decision I've ever made.
3/4 C butter, softened
3/4 C brown sugar
3/4 C sugar
2 eggs
1 t vanilla
1/2 t salt
1 t baking soda
1/2 t baking powder
2 1/2 C flour
12 Oreo cookies
1 (12 ounce) bag white chocolate chips
1. Preheat your oven to 350 degrees.
2. Toss 3/4 cups of softened butter into your stand mixer or large mixing bowl. Beat it until it has broken down and is smooth. Add 3/4 cup brown sugar and 3/4 cup sugar. Cream it all together until light and fluffy. Should take 2-3 minutes. Add 2 eggs and mix again for 1 minute. Add 1 teaspoon vanilla and mix just until combined.
2. In a separate bowl combine 1/2 teaspoon salt, 1 teaspoon baking soda, 1/2 teaspoon baking powder and 2 1/2 cups flour. Toss it all together with a fork and add it to the creamed mixture. Mix until combined.
3. Add 12 Oreo cookies to a large Ziplock bag, and use rolling pin (or other random kitchen utensil, haha) to crush them. They should not be overly crushed – you will want some cookie "chunks" in your mix.
4. Add 1 bag of white chocolate chips to the mix, and mix everything together just until combined.
5. Roll the dough into 1 1/2 inch balls and place them on a cookie sheet that has been sprayed with cooking spray (or use parchment paper)
6. Bake for 7-9 minutes, or until the cookies crack along the tops. The trick here is to be sure the cookies don't over bake. You want to take them out of the oven before they are all the way cooked through. Then let them rest on the hot cookie sheet for a couple of minutes to finish baking all the way.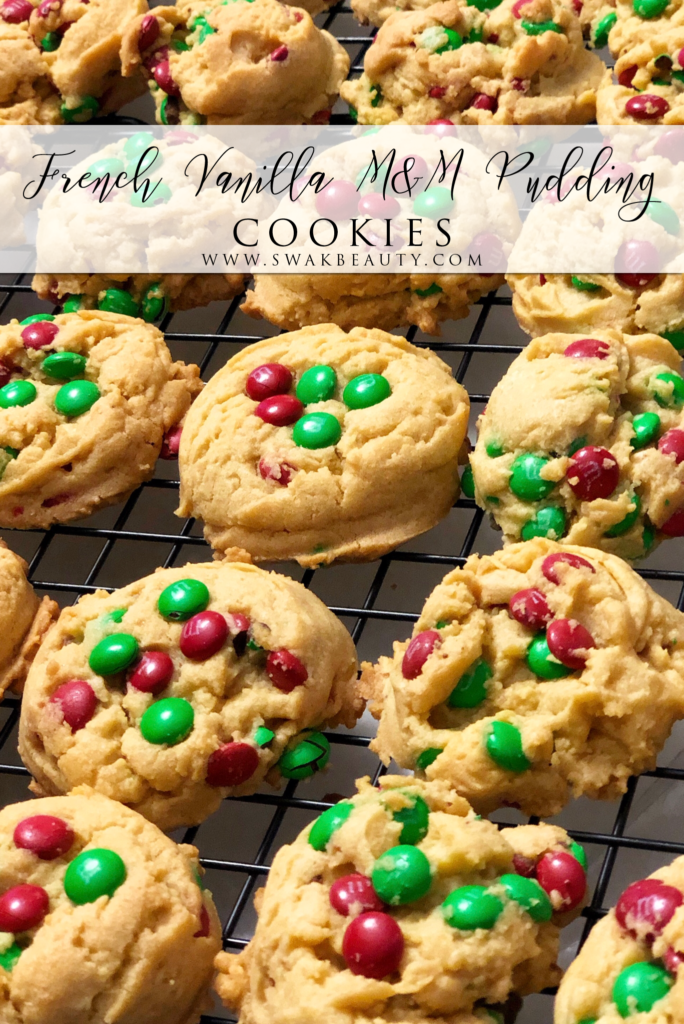 French Vanilla M&M Pudding Cookies
Like the old fashioned classic M&M cookie – but OH SO MUCH BETTER. I modified the original recipe using French Vanilla pudding mix in place of Vanilla, and I LOVE the flavor.
3/4 cup butter, room temperature
1 cup light brown sugar, packed
1 egg
1 tsp vanilla
1 (3.4 oz) box Instant French Vanilla Pudding Mix
3/4 tsp baking soda
1 tsp kosher salt
2 cup flour
1 1/2 cup Mini M&Ms, plus 1/4 cup more for garnish
1. Preheat oven to 350°
2. In bowl of stand mixer combine butter and brown sugar, beating until combined.
3. Add in egg and vanilla and continue mixing until smooth, scraping sides as necessary. Mix in french vanilla pudding, baking soda and salt.
4. Finally add in the flour and beat until just combined.
5. Stir in M&Ms.
6. Using a large cookie scoop, scoop dough onto parchment-lined baking sheet about 2 inches apart. Bake for 9-11 minutes until edges begin to golden.
7. Allow to cool on baking sheet for 3-4 minutes and then transfer to wire rack to finish cooling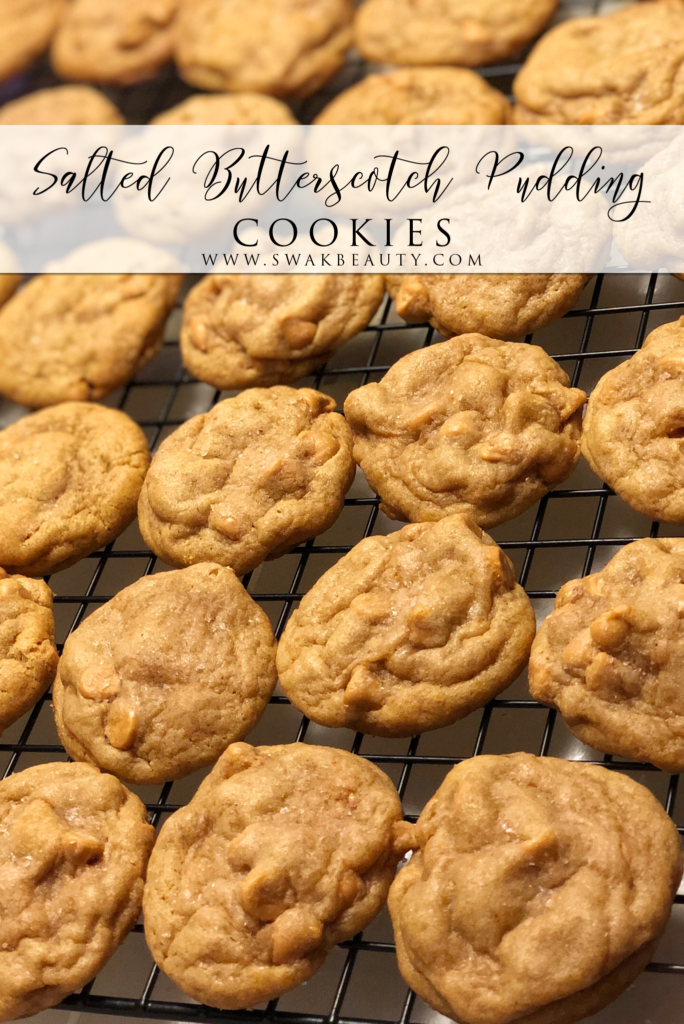 Salted Butterscotch Pudding Cookies
These have been on the menu for the past 3 years, and they are a hit each and every time. Most Butterscotch cookies I've tried in the past were a bit firm and stiff for my taste – I'm obsessed with how soft and pillowy these come out. The salt in the last step just takes it to the NEXT LEVEL!
3/4 cup butter softened
3/4 cup brown sugar
1/4 cup sugar
1 teaspoon vanilla
1 egg (see note)
2 cups flour
1 small box (3.5 ounces)l instant butterscotch pudding mix (dry, not prepared)
1 teaspoon baking powder
1 bag butterscotch chips
coarse sea salt
1. In a large bowl, cream together butter and sugars. Mix in vanilla and egg until smooth.
2. In a medium bowl whisk together flour, butterscotch pudding mix, and baking powder. Add dry mixture to wet ingredients and mix until combined. Stir in butterscotch chips. Cover and chill 1 hour.
3. Preheat oven to 350. Scoop about 2 tablespoons of dough and roll into balls. Place on lightly greased or parchment-lined baking sheet, at least 2 inches apart for spreading.
4. Bake 10-12 minutes. Immediately after removing from the oven, sprinkle cookies with coarse sea salt. Allow to cool completely on baking sheet. Store in airtight container at room temperature.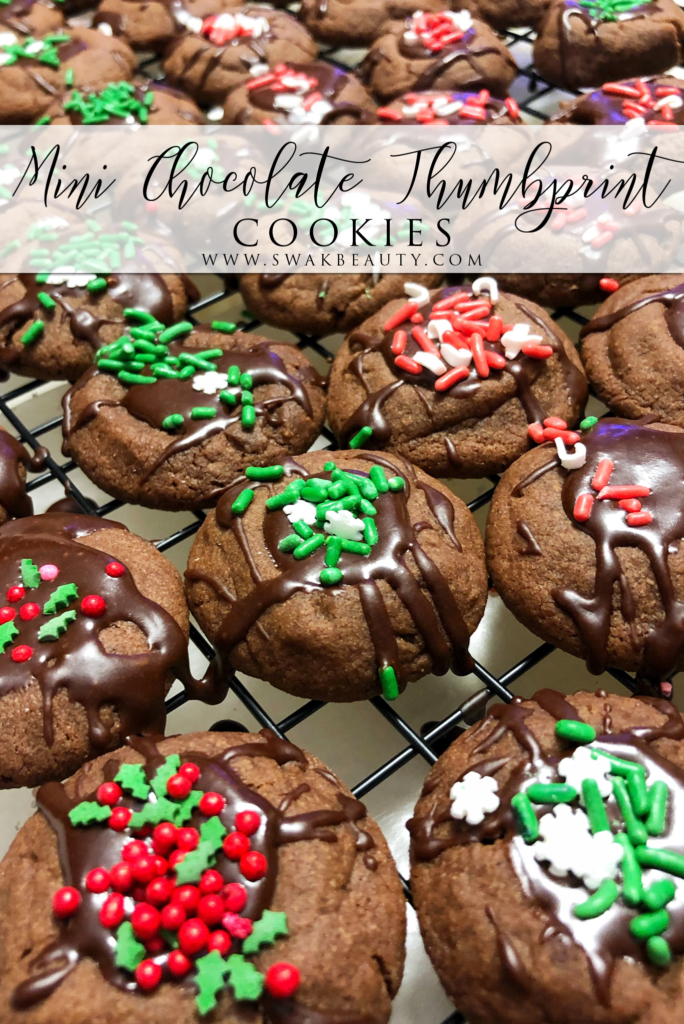 Mini Chocolate Thumbprint Cookies
This was a new recipe for me this year. Typically, I make (and love) almond jam-filled thumbprints, and I still might add them to the list this year, but being that Ry isn't a fan of the jam, I wanted to try a chocolate version. I absolutely LOVE how they came out. If you leave them slightly underdone (which I tend to do with most of my cookies, I prefer SOFTNESS), they are a bit brownie-like.
2 sticks + 2 tablespoons of butter, softened
3/4 cup sugar
1/3 cup cocoa powder
2 cups flour
1/2 teaspoon salt
1/2 teaspoon baking soda
1 teaspoon baking powder
3 tablespoons cocoa powder
1 heaping cup powdered sugar
2-3 tablespoons hot water
1 teaspoon vanilla
holiday sprinkles
1. Preheat the oven to 350. Cream the butter and the sugar until smooth. Add the 1/3 cup cocoa powder and mix until incorporated.
2. In a separate bowl, combine the flour, salt, baking soda, and baking powder. Add to the butter mixture and mix until just combined. Roll into small balls and make an indent with your thumb in the center of the ball. Bake for 7-9 minutes or until dry looking and lightly cracked on the surface but still very soft. I left mine a little bit underdone so they were softer and fudgier, almost like a brownie.
3. When they come out of the oven, press the centers down again to make a more defined well for the frosting. Allow to cool.
4. Whisk the cocoa powder, powdered sugar, hot water, and vanilla. Spoon the frosting into the centers of the cookies and add sprinkles. Allow frosting to set before storing in tins.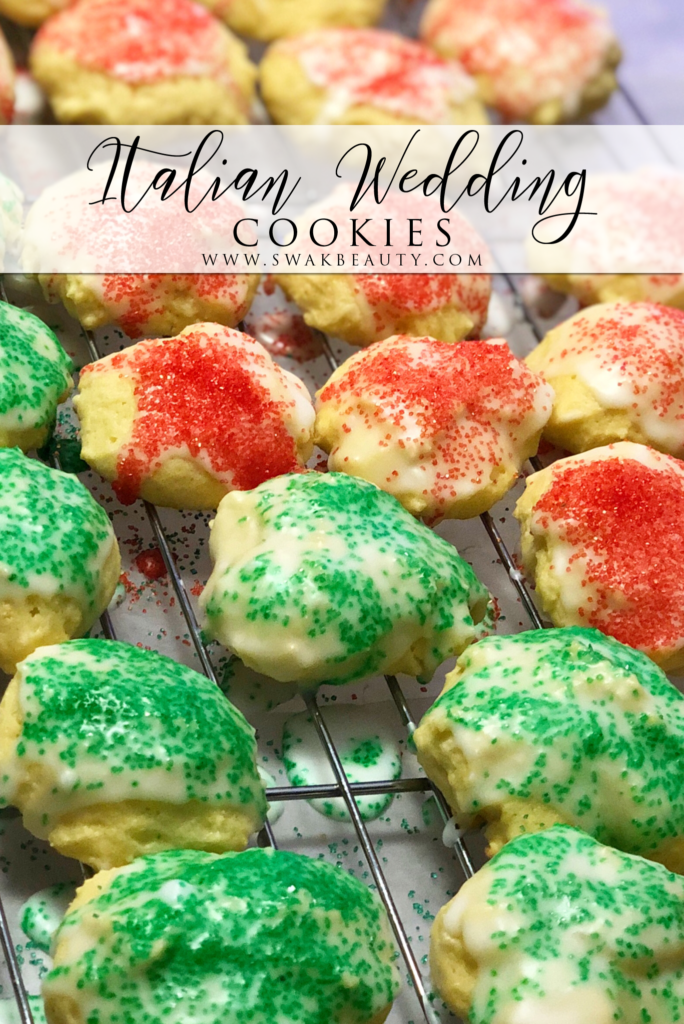 Italian Wedding (Christmas) Cookies
These cookies just TASTE like Christmas. They are flavored of all of my favorite cookies from various cookie tins I've sampled throughout the years – classic, not overly sweet, and so comforting. I use almond flavoring for the frosting, my favorite of all the holiday flavors (I'm so not an anise girl, but I know that flavor is VERY popular for this style cookie). I also used a cookie scoop, rather than hand rolling these cookies, as the dough becomes VERY sticky, and I find the scoop is easier to work with. For a medium sized scoop, 10 minutes of baking time worked great! Adjust as necessary depending on your cookie size.
4 1/2 cups flour
2 sticks butter
1 1/2 cups sugar
6 eggs
6 teaspoons baking powder
1 tablespoon vanilla extract
Cream butter and sugar until blended. Add eggs, one at a time, mixing well after each addition. Mix in vanilla extract. In a separate bowl, combine flour and baking powder. Slowly add flour to creamed mixture and mix until blended. If the dough is too sticky, sprinkle a bit more flour. Hand-roll teaspoon-sized balls and place 2″ apart onto ungreased or parchment-lined baking sheet. Bake at 350 until cookies are set and bottoms are lightly browned.
Confectioners' Frosting
3 cups confectioners' sugar
1 teaspoon vanilla, almond, lemon, or anise extract (my personal favorite)
1/4 cup water
Mix all ingredients with an electric mixer, or by hand. Beat until smooth. Dip tops of cookies into frosting. Leave plain or add colored sprinkles. Let dry completely on cooling rack.
I hope you all enjoy these delicious recipes! Comment below with your favorite cookie flavors, and I might add them to my lineup this week!