MOTD – Rose Pink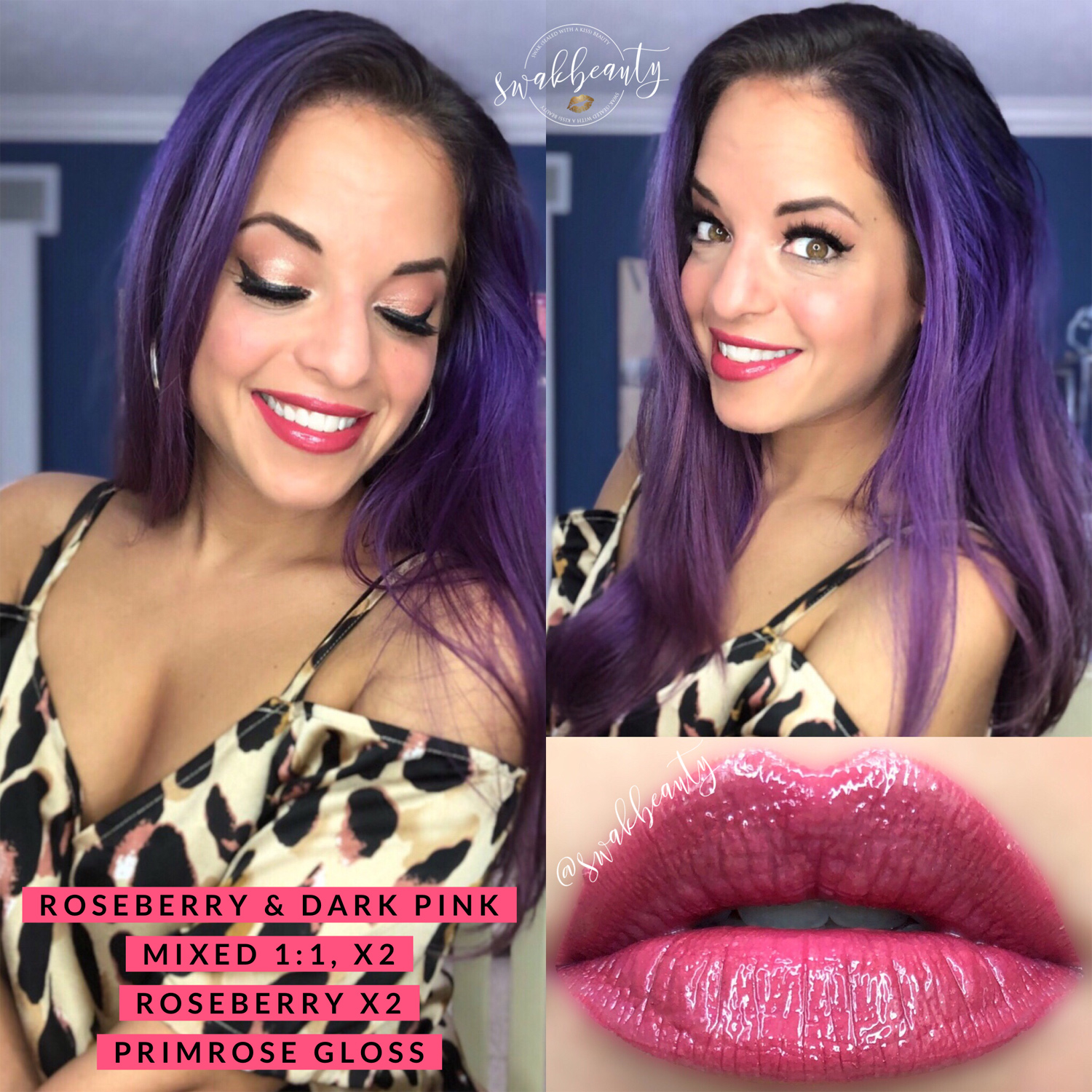 Today's look was born of some of my FAVORITE staple, permanent line collection products. These babies are TRIED AND TRUE, and can be utilized in SO many different ways to create SO many different looks. This is an AMAZING go-to starter ShadowSense and LipSense palette for all!
Okay, ONE item is Limited Edition AND Factory Sold Out – Primrose Gloss – BUT I still have a FEW left in stock, so don't be mad – it can be yours! (Customers only) 😘
This lip combo is actually a mix of both LipSense layering and mixing. I mixed an equal ratio of Roseberry and Dark Pink, and used that for two layers, and then to go with a slightly darker variant, I finished off with two layers of Roseberry solo. I really LOVE how this combo came out, but any slight variant of Roseberry and Dark Pink in layering OR mixing would alter the resulting color quite a bit – which is what makes LipSense so much fun! With only two colors – you have SO many options.
This eye palette is seriously just so darn ME, isn't it? 😂Anyone who has followed me for a while knows I use these colors ALL. THE. TIME. 🙌🏼They just never fail, no matter what day it is or look I need – when I doubt, I grab for these beauties. And yes, I packed on the Rose Gold Glitter ShadowSense today, and I have NO regrets. ✨But if you're in for a more subtle look, you can absolutely go with a lighter application and a brushed down finish.
Here's everything I used for this look!
💋 Silk Pore & Wrinkle Minimizer
💋 Medium CCTM & Tan MakeSense, mixed
💋 Deep CCTM as contour
💋 Bronze & Terra Cotta BlushSense
💋 White/Medium Concealers on Blemishes
💋 White/Medium Concealers under eyes
💋 Candlelight as eyeshadow base & under eyes
💋 Rose Gold Glitter, Garnet, Pink Posey & Snow ShadowSense on eyes
💋 Starry Sky EyeSense as upper eyeliner
💋 Black EyeSense Pencil on waterline
💋 Rustic Brown ShadowSense on brows
💋 Black LashSense VolumeIntense Mascara
💋 Roseberry & Dark Pink LipSense mixed 1:1 x2 + Roseberry x2
💋 Primrose Gloss
💋 Kiss Lash Couture Triple Push-Up Lashes in Corset