MOTD – Metallic Reign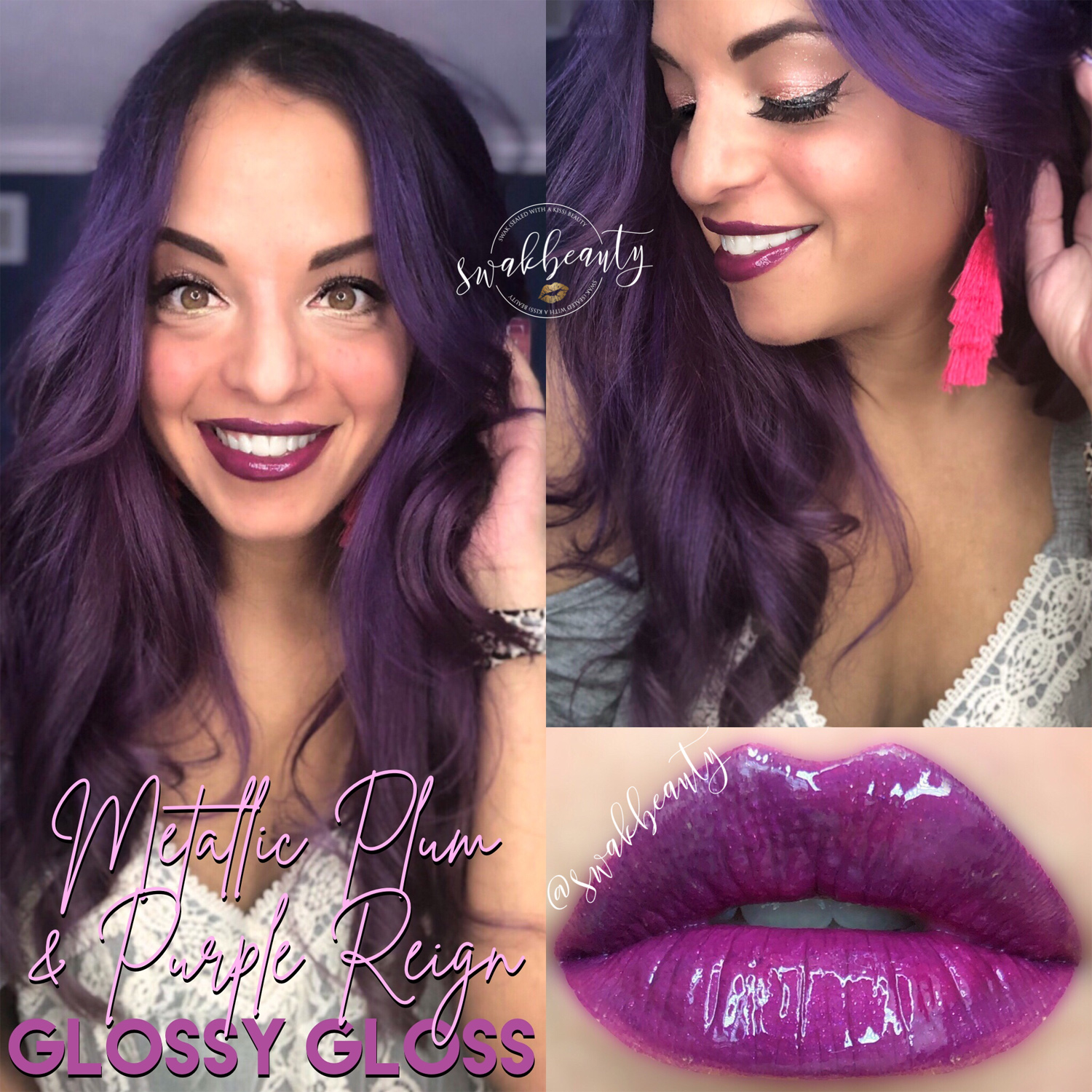 Today, I did a LIVE training for 42,000 (!!!) of my fellow SeneSisters. To say I was nervous was an understatement!! But I'm really proud of myself – I did it, and I had a lot of fun in the process. Sometimes going outside of our comfort zone is JUST WHAT WE NEED to grow – and to help others grow.
Since I was feeling jittery in preparation for this big event, I wanted to break out my POWER COLORS – colors that make me feel confident and ready to take on a challenge. I went with two of my very favorites (those who follow me know you've seen a lot of these colors from me!) – Metallic Plum & Purple Reign. I used an equal mix and I topped with Glossy Gloss – simple and perfect for this bold look.
On my eyes, I layered Rose Gold Glitter over Shell Glitter (which I still have a LIMITED NUMBER of in stock!) to create this gorgeous blush gold hue. I used Moca Java as a transition towards my brows, and Sandstone Pearl Shimmer as a brow bone and inner corner highlight. This eye is sparkly and oh-so sweet!
Here's everything I used for this look!
💋 Silk Pore & Wrinkle Minimizer
💋 Medium CCTM & Tan MakeSense, mixed
💋 Deep CCTM as contour
💋 Bronze & Terra Cotta BlushSense
💋 White/Medium Concealers on Blemishes
💋 White/Medium Concealers under eyes
💋 Candlelight as eyeshadow base & under eyes
💋 Rose Gold Glitter, Shell Glitter, Moca Java & Sandstone Pearl Shimmer ShadowSense on eyes
💋 Starry Sky EyeSense as eyeliner
💋 Golden Shimmer EyeSense Pencil on waterline
💋 Rustic Brown ShadowSense on brows
💋 Black LashSense VolumeIntense Mascara (Regular & Waterproof formulas layered)
💋 Metallic Plum & Purple Reign LipSense, Mixed 1:1
💋 Glossy Gloss
💋 Ardell Wispies Lashes