Now in Stock! Sunset Skies Lippies!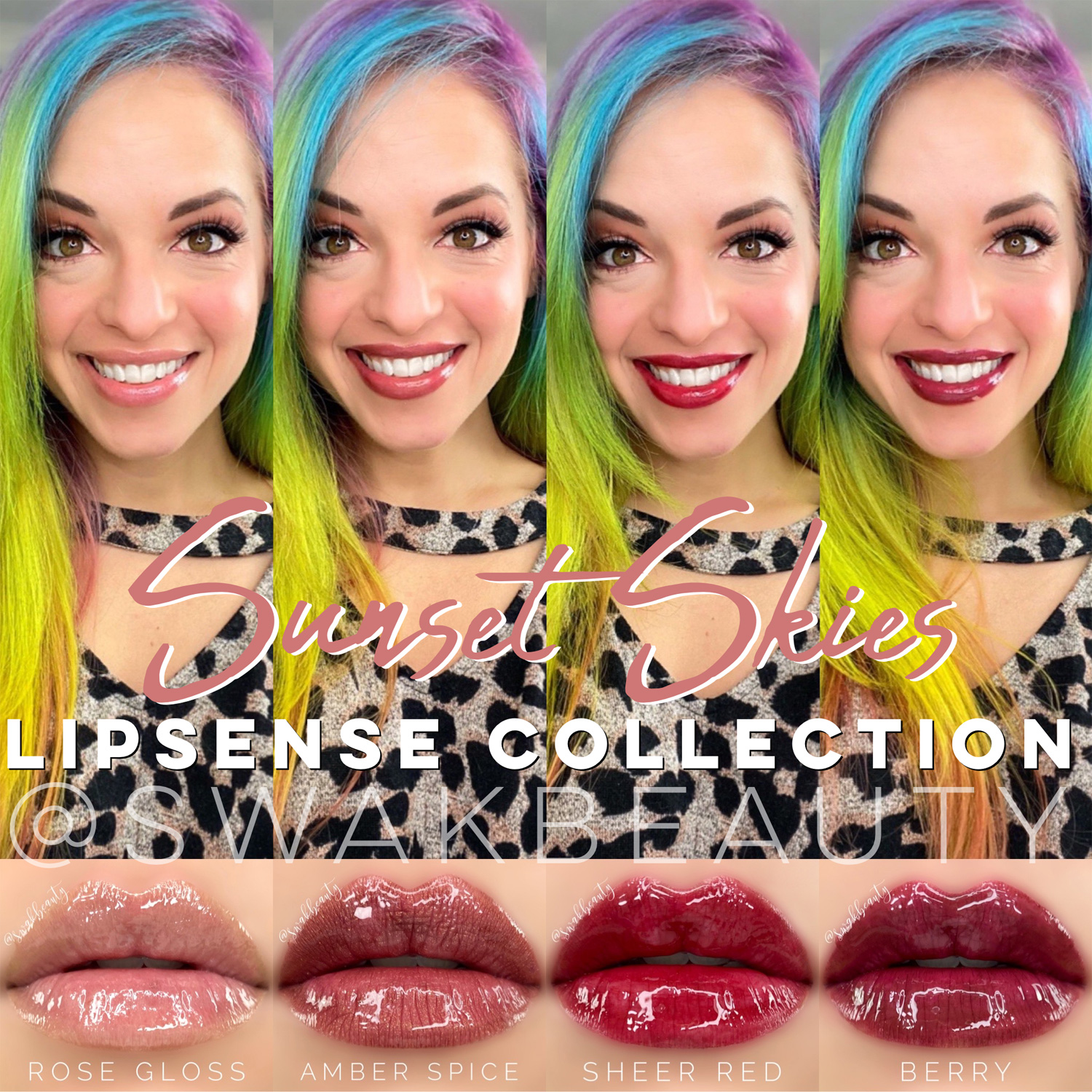 NOW IN STOCK! The Sunset Skies LipSense Collection has ARRIVED, ladies!! I'm SO excited about each of these stunning shades, they are truly remarkable! Literally, taking my breath away gorgeous!
🍁 AMBER SPICE – I think I was most excited for this shade to hit my door today – and can I just say – it does NOT disappoint! It's a soft mauve-beige with a subtle shimmer. It leans a bit warmer on my pink lips, and I love its almost rose gold finish. It's a rich formula, and applies like a DREAM! This color is going to be quickly added to my Fall rotation!
❤️ SHEER RED – This stunning shade is a red lover's DREAM! Sheer Red is a neutral-to-cool red with a sheer finish. If the color of Crimson had a baby with the formula of Sheer Berry, Sheer Red would be that baby! 😆 I'm obsessed. This is a GREAT "starter" red for someone who wants to go a little bolder without being BOLD.
🍇 BERRY – Ohhhh, I am SO happy to have Berry back!! Since I know you're all wondering – yes, the formula HAS changed! 😍 The new Berry is not as dark, it's a few shades lighter, with more of an earthy berry tone. It applies gorgeously (which is amazing, the old formulas was a little tricky!) and has a beautiful matte finish. I included a BONUS swatch in today's post for only these two just to show you the difference! Both will be included in my typical swatch sets, which will be coming in the next day or so!
🌹 ROSE GLOSS – Consider this the first entry into my permanent line gloss pics! 😘 Rose Gloss is such a great go-to gloss for any occasion. It's a sheer rosy/peach gloss with a subtle iridescence and it looks amazing on EVERYONE! The best part? It's FREE when you grab the Sunset Skies Lip Collection set!