NEW! Kiss and Tell Preferred Customer Program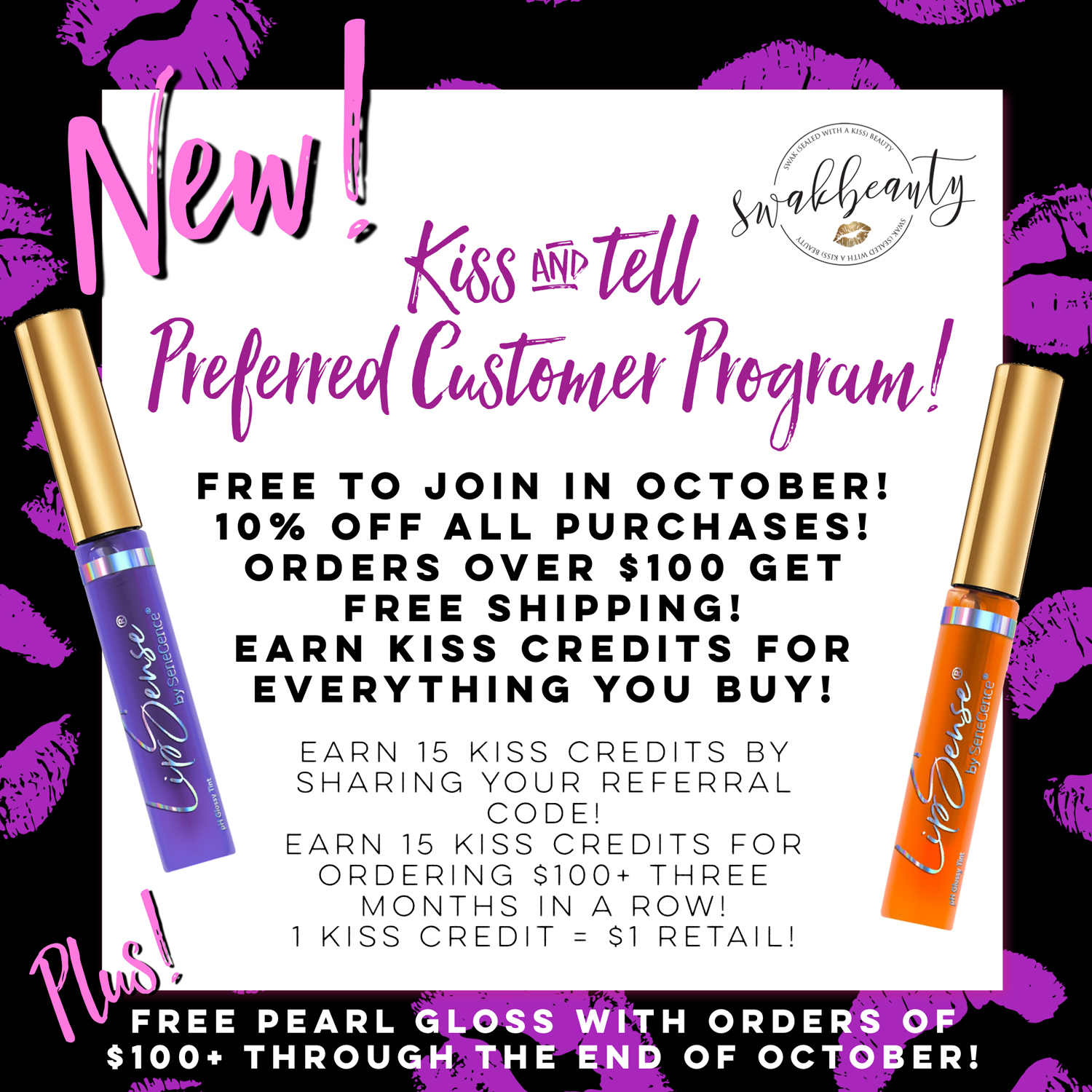 I'm so excited to announce a TOTAL GAME CHANGER for all of my amazing and loyal customers!! The Kiss & Tell Program is FINALLY HERE! 🎉
This is a BRAND NEW rewards system that is going to completely BLOW YOUR MINDS – and the best part?! You can join for FREE through the end of October!!
💙 Enjoy 10% OFF all of your purchases for an ENTIRE YEAR!
💙 Enjoy FREE SHIPPING on ALL orders $100+, for an ENTIRE YEAR!
💙 Earn KISS CREDITS for EVERYTHING YOU BUY!
💙 Earn 15 KISS CREDITS for sharing your REFERRAL CODE with friends and family!
💙 Earn 15 KISS CREDITS for ordering $100+ 3 months in a row!
💙 1 KISS CREDIT = $1 RETAIL!
💙 FREE SAMPLES included with every K&T order!
This is the PERFECT solution for my customers who aren't quite ready to take the plunge into being a distributor, but still want to enjoy the DISCOUNTS and PERKS of loving (and sharing!) these amazing products!
🎁 BUT WAIT! THAT'S NOT ALL! You'll also get a FREE PEARL GLOSS with all $100+ orders through Kiss & Tell through the end of the month!
A few housekeeping notes!
• If you are a member of K&T, you can also order from me directly at ANY time! Your K&T discount only applies for orders placed through the K&T system.
• The new Kiss & Tell Program is REPLACING my current Rewards Program! This program is SO MUCH BETTER!