MOTD – Be My Valentine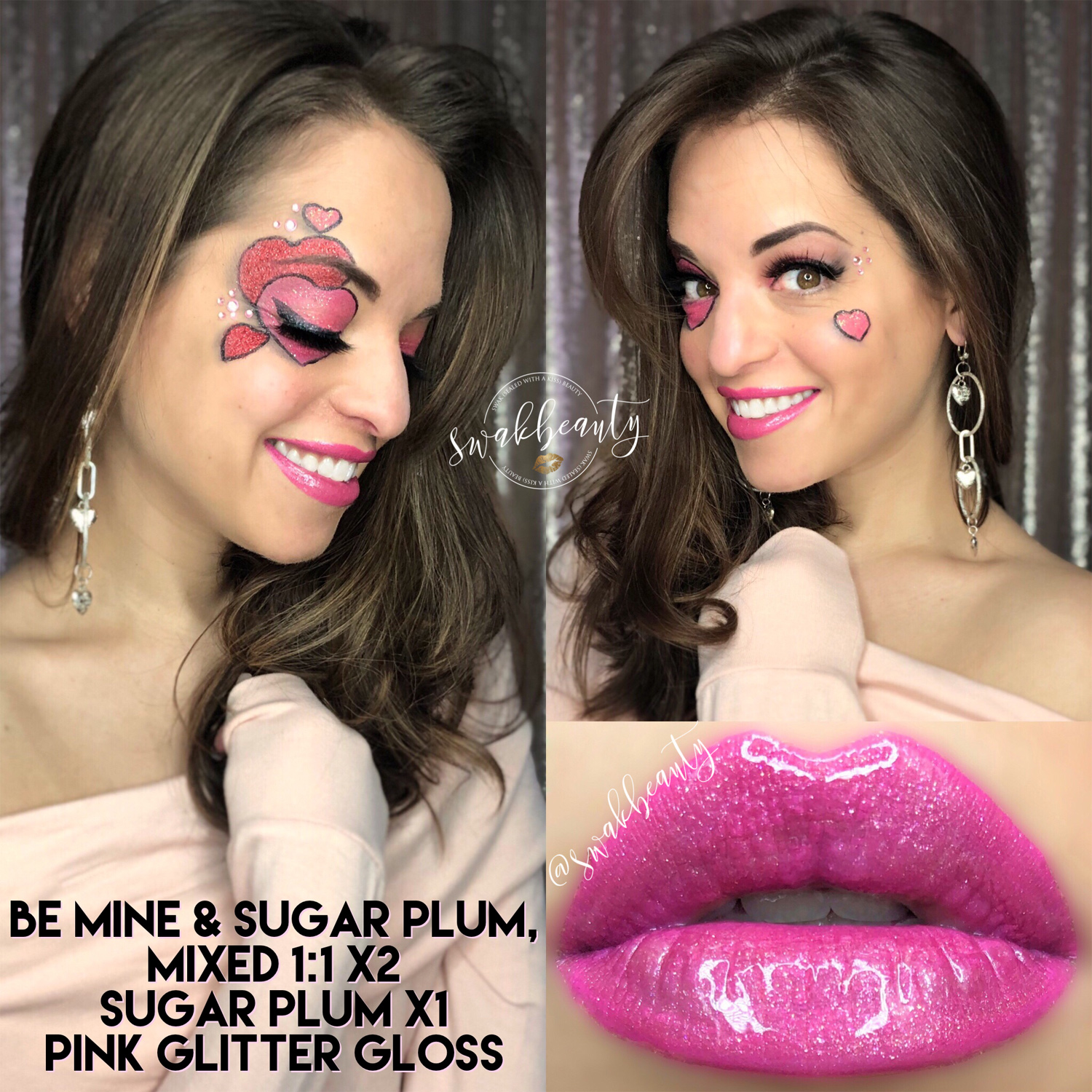 Ooooh, this look in celebration of Valentine's Day tomorrow is TOO MUCH FUN! If you have been following me for a while, you know that I absolutely LOVE creating fun and artistic looks with my makeup, especially around the holidays – and Valentine's Day is no exception! These sweet glittery hearts have my heart pumping for sure!
On the eyes, I started with bases of Cherry and Pink Berry BlushSense (for the red, I also mixed some Bandana Shimmer in, too!) for my hearts, and I brushed in loose glitter on top for extra sparkle. (I used NYX Glitter Primer to make sure it stayed in place) and placed additional rhinestones for even MORE pizzazz! I outlined everything with Starry Sky EyeSense, while also using it for a cat-eye liner. On my "glam" eye – I used Pink Berry BlushSense and matching glitter on my inner corner, transitioning with Pink Posey ShadowSense, and placing Onyx on my outer corner to smoke it out.
… But can we just talk about this LIP for a hot second?! Because I. AM. OBSESSED. The mix is kinda goofy, but I REALLY love how it turned out. For my first two layers, I mixed Be Mine & Sugar Plum in equal parts, but for my third layer, I went with straight Sugar Plum to give this amazing shimmering effect. I topped with Pink Glitter Gloss, which took the look to the NEXT LEVEL – just look at that gorgeous pink shimmer! I'm drooling!
I included multiple collages for the eyes, since I actually did two separate looks!
Here's everything you need for this look!
💋 Silk Pore & Wrinkle Minimizer
💋 Medium CCTM & Dewy MakeSense Foundation, Mixed
💋 Moca Java ShadowSense as contour
💋 Bronze BlushSense
💋 Medium Concealer on Blemishes
💋 EyeLuminator and White/Medium Concealers, mixed under eyes
💋 Red Hearts: Cherry BlushSense & Bandana Shimmer ShadowSense with red loose glitter
💋 Pink Hearts: Pink Berry BlushSense with pink loose glitter
💋 Glam Eye: Pink Berry BlushSense with pink looks glitter on inner corner, Pink Posey ShadowSense as transition & Onyx ShadowSense on outer corner
💋 Rustic Brown ShadowSense on brows
💋 Starry Sky EyeSense as eyeliner & heart outlines
💋 UnderSense 3-in-1 Lash Primer
💋 Black LashSense VolumeIntense Mascara
💋 Be Mine & Sugar Plum LipSense, mixed 1:1 x2, Sugar Plum x1
💋 Pink Glitter Gloss
💋 Kiss Couture Faux Mink Lashes in Gala