MOTD – Honey Papaya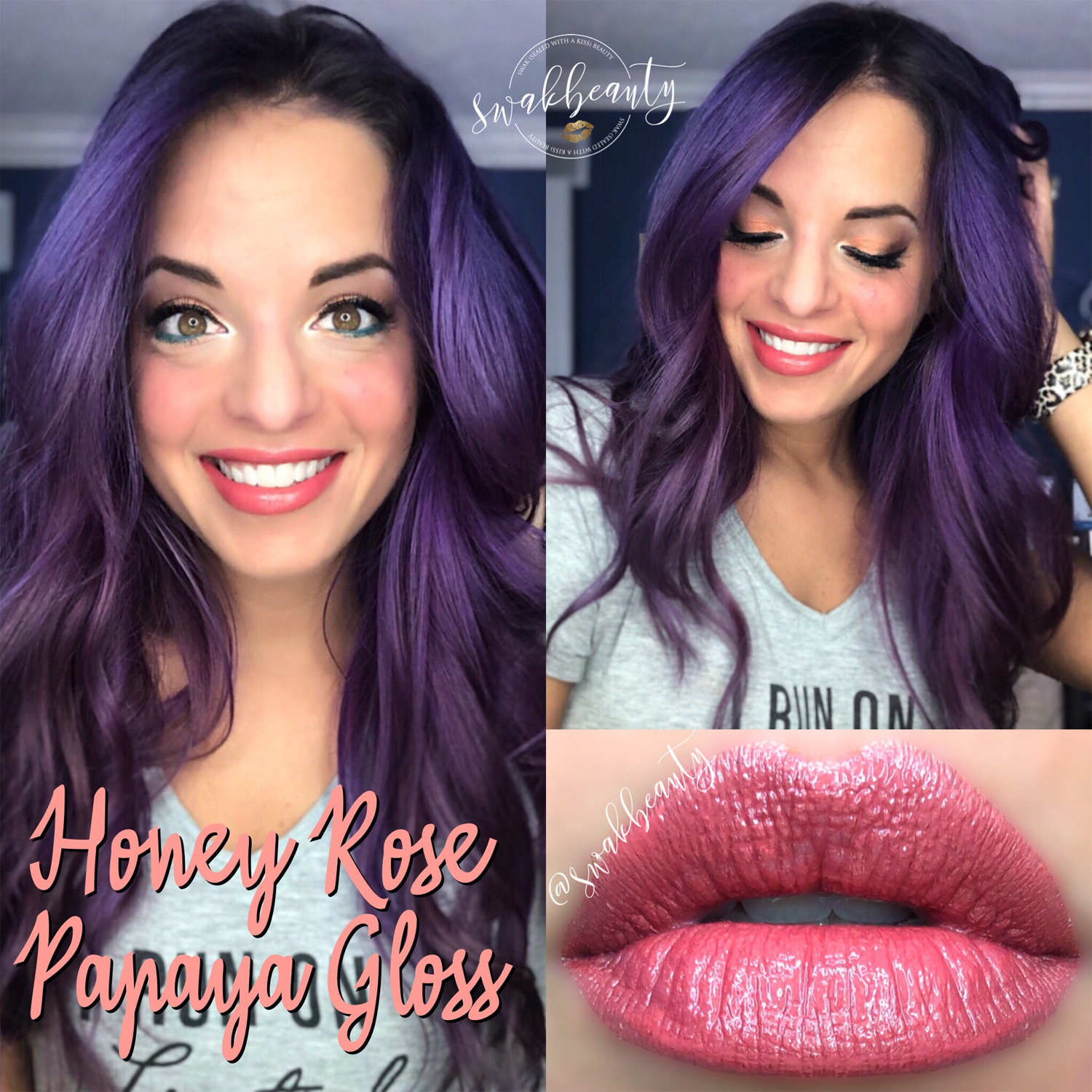 Bring on ALL the delicious colors for Summer! I'm feeling all the BOLDS, all the reds, and most importantly – the corals (of all varieties). These colors give me the feeling of WARMTH and SUMMER, and I plan to rock variations all summer long.
Honey Rose is a color I NEVER wear. I think I've worn it four times in my entire 2.5+ years of wearing LipSense, and I have no good reason for why I don't reach for it often. But I NEED to – it's SO gorgeous.
I topped with the lovely and oh-so LIMITED Papaya Gloss, and WOWZA! I love the effect. It takes the rosy red of Honey Rose and adds a fun pop of coral pink, and the resulting color is SO special and unique. (I also included a shot of Honey Rose on its own, because its solo pic needed major updating!)
Now, let's just talk about this EYE for a second, shall we?! I'm OBSESSED with this combo! It uses a large variety of colors (don't be scared!), but somehow comes together to create this super fun and modern, yet cohesive look. I'm convinced Lava Shimmer and Seafoam Shimmer were made for each other, even though they were released in opposite seasons. I still have a few of EACH in stock, so definitely hop on these fast – you won't regret it!
Here's everything I used for this look!
💋 Silk Pore & Wrinkle Minimizer
💋 Medium CCTM & Tan MakeSense, mixed
💋 Deep CCTM as contour
💋 Bronze & Terra Cotta BlushSense
💋 White/Medium Concealers on Blemishes
💋 White/Medium Concealers under eyes
💋 Candlelight as eyeshadow base & under eyes
💋 Lava Shimmer, Rustic Brown, Candied Cocoa Shimmer, Mova Java, Turquoise, Seafoam Shimmer and Snow ShadowSense on eyes
💋 Starry Sky EyeSense as eyeliner
💋 Rustic Brown ShadowSense on brows
💋 Black LashSense VolumeIntense Mascara (Regular & Waterproof formulas layered)
💋 Honey Rose LipSense
💋 Papaya Gloss
💋 Kiss Looks So Natural Lashes in Vamp
Hair Products Used:
👑 L'ange Rival Heat Shield
👑 L'ange Manage Marula Oil Hydrating Mist
👑 Blow Dryer & Curling Wand from the L'ange Bijou Set