Introducing… the Hawaiian Collection!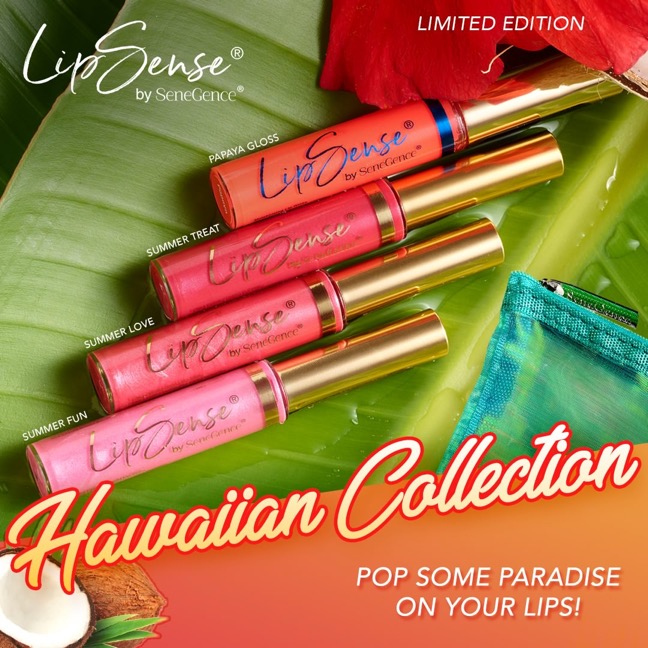 I didn't think July could get any more EXCITING, but I've just been proven VERY WRONG! 😱
Bring vacation vibes with you anywhere, anytime with returning LIMITED EDITION shades of LipSense® and Gloss inspired by bright, fun summer hues and tropical landscapes. 🌺The Hawaiian LipSense Collection is HERE!
💋 Returning! SUMMER TREAT LipSense® – a juicy watermelon color with a matte finish
💋 Returning! SUMMER FUN LipSense® – a light, cool-toned frosted pink
💋 Returning! SUMMER LOVE LipSense® – a light, warm-toned frosted pink
💋 Returning! PAPAYA GLOSS – a vibrant orange-coral with a high-shine, tinted finish
These colors are some of the most HIGH IN DEMAND and REQUESTED colors in our line up!! Summer Treat for one has had legit PETITIONS to bring it back – so this news is EXTREMELY EXCITING and I expect these colors to sell out VERY quickly.
The Hawaiian Collection is on the way into my inventory NOW! Grab all 4 products to receive FREE SHIPPING and a FREE Mermaid Mesh Cosmetics Bag with your purchase! 🥳
Comment below, message me, or text the word ORDER to 937-249-0863 to claim your Hawaiian favorites today!