MOTD – Mirage Berry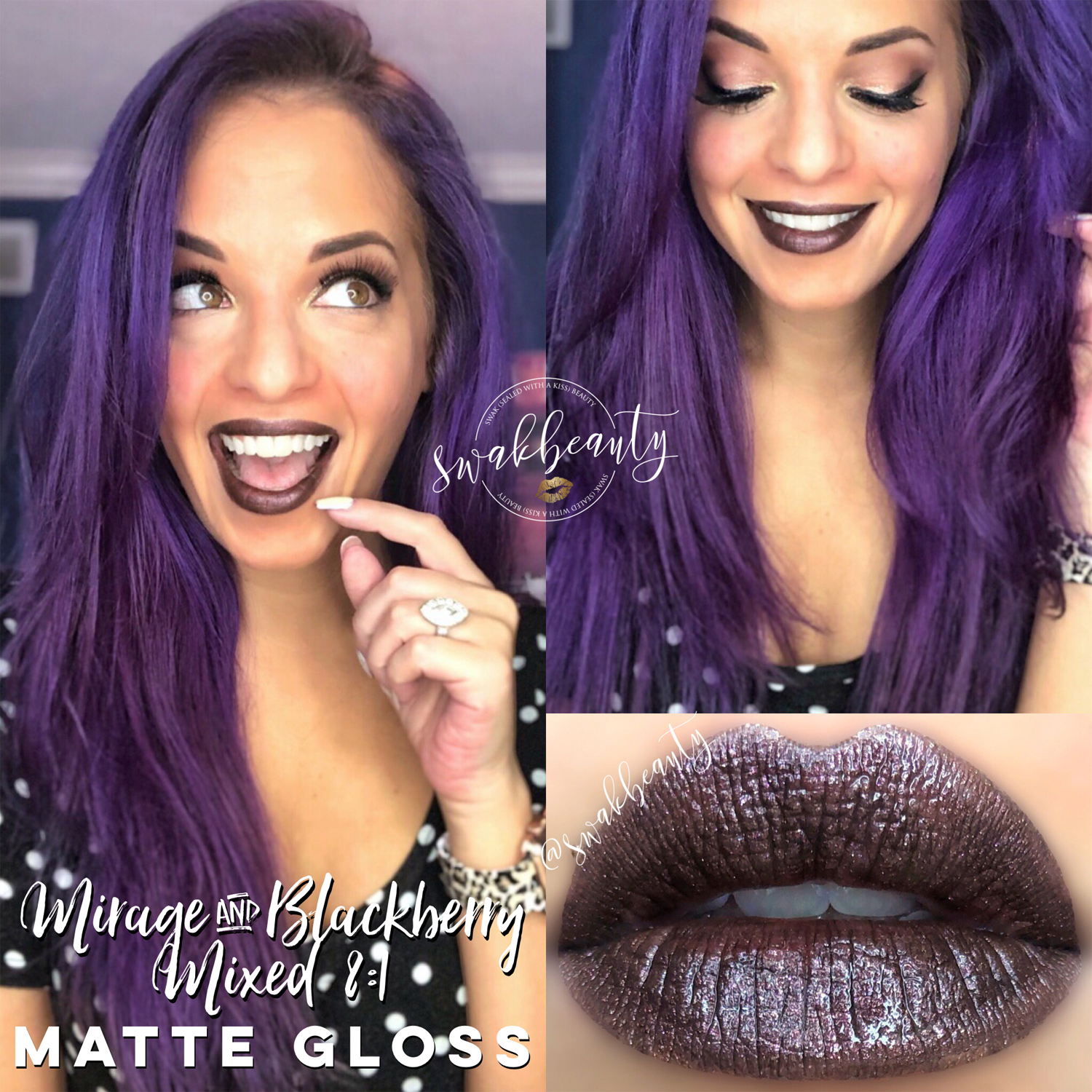 Okay, it's official – I can't stop mixing with Mirage. WOW, this color, you guys. The sparkle is just insane and translates beautifully into ANY mix. I've been dying to mix it with Blackberry for about a week now, and I finally gave into the urge today. THIS MIX, YA'LL. I'm ob-sessed! This is SUCH a gorgeous and vampy mix with SO much sparkle. To vary the finish up a bit, I wore it with Matte Gloss – but I can see SO many amazing Gloss additions to this look!
On the eyes, I wanted to share a more subtle look featuring a bold color from the Rainbow SS Collection. I've been enjoying the colors in all their bold glory, but I also wanted to show how truly versatile they are for every day! In this neutral smoky look, I used Rose Gold Glitter ShadowSense on my main lid, Rustic Brown on my outer corner, and Red ShadowSense in my crease. I absolutely LOVE this shadow trio!!
As a side note, on my stories today I asked for opinions once again on my hair! I was debating whether or not to replenish the purple in my hair – I typically do with every shower, using a color depositing hair mask my stylist mixed for me. It REALLY helps keep the color completely fresh, but I have been feeling like letting it fade – just a bit – to a more subtle, perhaps pastel, purple color. It was a close call with the votes on my stories – but they leaned towards letting it go more pastel. So, when I washed today – I did not replenish my purple! It's hard to tell – the color is still very bright – but it has toned down just a touch, and I really love it. (I half expected it ALL to come out, so I'm happy!) I probably won't let it fade TOO far – but it's fun to play with the vibrancy for sure!
Here's everything I used for this look!
💋 Silk Pore & Wrinkle Minimizer
💋 Medium CCTM, Pearlizer & Medium Concealer, mixed, as foundation
💋 Deep CCTM as contour
💋 Bronze & Terra Cotta BlushSense
💋Medium Concealer on Blemishes
💋 White/Medium Concealers under eyes
💋 Candlelight as eyeshadow base & under eyes
💋 Rose Gold Glitter, Rustic Brown, Red & Sandstone Pearl Shimmer ShadowSense on eyes
💋 Golden Shimmer EyeSense pencil on inner corner
💋 Black EyeSense pencil on waterline
💋 Starry Sky EyeSense as eyeliner
💋 Rustic Brown ShadowSense on brows
💋 Black LashSense VolumeIntense Mascara (Regular & Waterproof formulas layered)
💋 Mirage & Blackberry LipSense, mixed 8:1
💋 Matte Gloss
💋 Ardell Glamour Lashes