Seminar 2021 NEW RELEASES!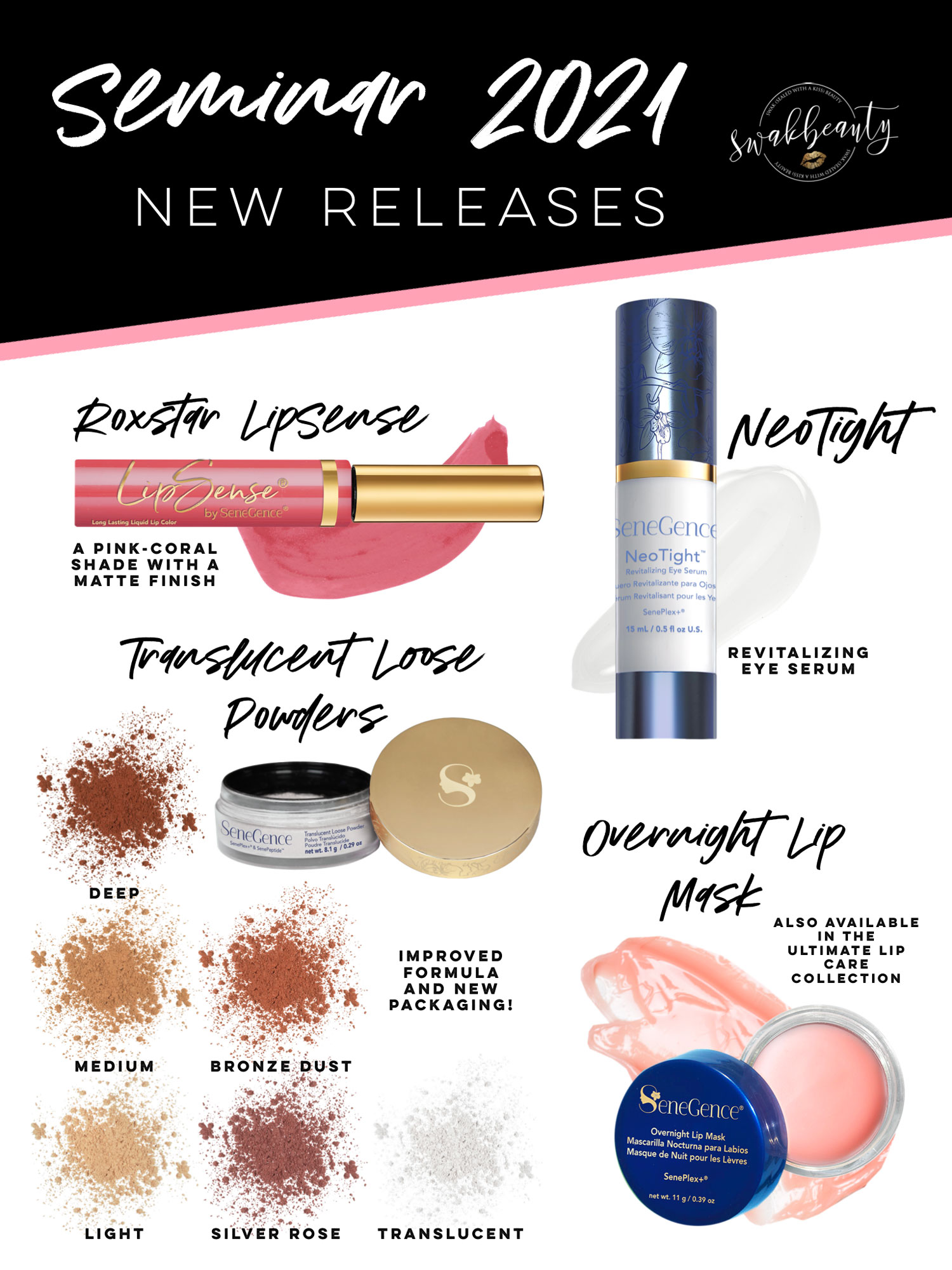 Oh my GOSH, you guys ‼️ I have some VERY EXCITING new product releases to tell you about!! 🤩 This might just the most FUN-FILLED product release EVER!
⭐️ NEW! ROXSTAR LIPSENSE – This new Limited Edition LipSense shade was created by my fellow SeneSister Roxanne Martynowski, features a GORGEOUS pink-coral shade with a smooth matte finish – PERFECT for staying in or jamming out. I'm so excited to try this sweet summer color! 👩‍🎤
⭐️ NEW! OVERNIGHT LIP MASK – Our BRAND NEW Overnight Lip Mask soothes, hydrates, and plumps your lips while you sleep, letting you wake up with a nourished, soft, and smooth smooch! Available individually and as part of the NEW Ultimate Lip Care Collection, which includes the Overnight Lip Mask + Applicator, Lip Smooth, Lip Balm and a collectible gold lips bag. 💋
⭐️ NEW! NEOTIGHT REVITALIZING EYE SERUM – If you're anything like me, you're going to be SO EXCITED for this one! Visibly erase signs of fatigue and aging, including fine lines and wrinkles, with a single application and over time. This is GREAT for those who suffer from dark, puffy and crepey under eyes (hello, me!)
⭐️ REFORMULATED! TRANSLUCENT LOOSE POWDERS – This is the release you ALL have been waiting for! Our amazing loose powders have been REFORMULATED and REPACKAGED! It's never been easier to contour, highlight, and set with new and improved Translucent Loose Powders. Now available in THREE NEW shades plus fan favorites, including: Translucent, Light, Medium, Deep, Bronze Dust & Silver Rose for matte setting, bronzing and shimmering shade options. 💃
Don't forget! My SEMINAR SALE runs through TOMORROW at midnight EST! ⭐️ ALL STOCK – *including* these new releases are on SALE – so grab them right away before the price goes UP next week! ☝️ Comment below, message me, or text the word ORDER to 937-249-0863 to claim your favorites TODAY!